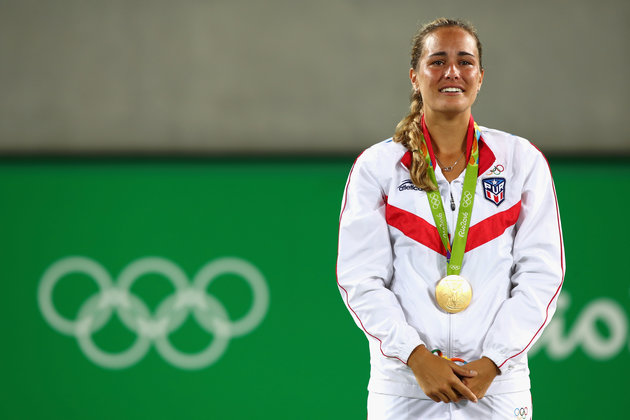 Recently, the world witnessed, in awe and admiration, what happens on the tennis court when there is a combination of hard work, determination, and heart. Not only can those factors make a difference in the player's life, but also it can impact a whole country. In this case, it resulted in a gold medal for #MonicaPuig, a young Latina, born in Puerto Rico and raised in Florida. If you know me, you understand how passionately I feel about raising bilingual and bicultural children. Watching her interviews in both languages with such fluency and listening to her boast about her heritage was an experience that brought tears to my eyes many times over.
If you really know me, you also know that I am equally passionate about tennis. And, through the years I have used cardio, weights, and indoor-cycling, cross training, and even yoga as my form of exercise. But tennis is how I stay active and healthy now that I am fifty-something. It has become my happy place.
I started playing tennis about sixteen years ago, as a hobby when my friends asked me to join. We were all in our early forties and it seemed like a good time to start. I remember when my mom was forty, and she and her friends had taken tennis classes in the local tennis club. Yes, though sometimes we say we are not doing what our parents did, we tend to… Ha! The point is that tennis has been in my life for a while now, but I would say that say it has really been within the last eight years that I started to pay more attention. I began watching all the grand slams, learning all the players' names and countries and consequently, that brought a new understanding of how the game is played and it helped me improve my game. Right around then, my tennis friends and I started attending the Indian Wells tournament, a premier WTA tournament in California, and where I have watched Rafa, Roger, Maria, Andy, Nole and other top players play. They are all there year after year and so are we. It is a fun-filled weekend that has two of my favorites: three days of friendship and tennis!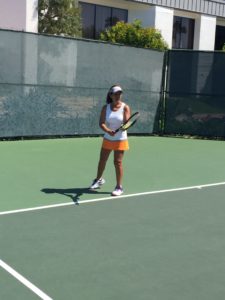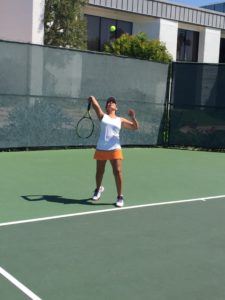 It was at the desert tournament a couple of years ago that I saw Monica Puig play for the first time. I didn't know her, nor did I know much about her, but I went to watch her play because she is Puerto Rican and I wanted to support her. If you know anything about my people, you know we do things like that; we back each other up no matter where we are. But, I believe this is true for many Latinos/Hispanics in the United States. When we find each other we become life-long friends!
I remember calling my parents when I got back and telling them about Monica. My mom knew who she was; she follows tennis too! At the time she asked me what I thought about her and I responded that she was on her way to being a top player. She was strong, hit the ball hard, and had an awesome serve… I was impressed. This month, we all witnessed her greatness!
From everything I've read and heard about Monica the last few days, she is all about hard work, determination, and heart. She believed that she could do it. She kept at it. And she never gave up. When I think of where my tennis is today verses where it was 10 years ago, I can honestly say, it has taken long hours on the courts, strong commitment, belief, and definitely a lot of heart! And though I am not going to win a medal anytime soon, I've applied some of the same strategies, continue to work at my game, continue to improve, and continue to believe that I can be better. This is all so much easier when there is a team rooting for you; like your coaches, your tennis partner, your teammates, and your friends! I'm sure Monica can relate!
You see tennis is pretty much like anything in life. There are ups and downs along the way and everyone experiences the good, the bad and the ugly… Yes, women are competitive in sports and you encounter an often-unexpected side, one with egos and duplicity at the front. But, I've also met some wonderful, talented, kind, and supportive women whom I'm honored to call my friends! The beauty of the sport? No matter how old we are, we can learn to play it and in the process make new friends of any age!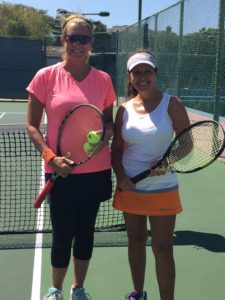 So, like the tennis pros out there, I've had my share of disappointments, but I've learned that the time spent on the courts can make a difference. As does determination, commitment, heart, and a sprinkle of humility. And if one goes a bit beyond that, I'd like to think that cultural pride always plays a role. Because like Monica, and many other bicultural or multicultural athletes out there, regardless of where we live, culture is always apart of our lives. Just ask the young Puerto Rican that could and just did! #PicaPower
Bai Bai,
Maritere
Tagged: Latina, Tennis, Puerto Rico, Monica Puig, Olympics, #MonicaPuig, #PicaPower, gold, latina boomer mom, exercise, puerto rican, health, #Rio2016, Rio, Brazil