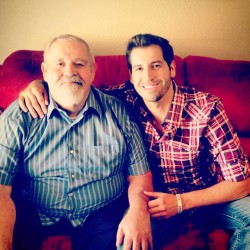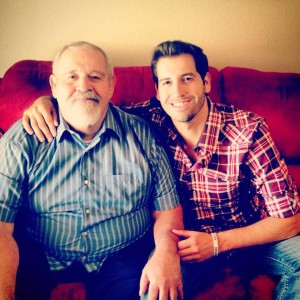 Nowadays with different types of technologies and with social media taking the lead in the way we communicate with others I still prefer talking to my parents over the phone at least once a day. Believe it or not I love hearing their voices because it shortens the distance and the time we go without seeing each other. I guess I am corny! Lol
Yes, I am part of the millennial generation that has often been categorized as being narcissists, needy, self-centered and entitled, but I have always strived to not let those negative stereotypes define my character. I have also heard from different people that we have become the generation that doesn't look back, moves-on in life and forgets about our intermediate family. They are very wrong and I know that doesn't apply to me!
I don't see anything wrong with moving-on in life and seeking a better future for myself. As a matter of fact my parents always motivated me into doing bigger and better things than they were ever able to accomplish. But one thing I know for sure is that I have never forgotten them or left them behind like some people have told me they have done with their own parents. As a matter of fact I am very connected to my parents.
As an adult I don't run everything by my parents anymore, but I do like to share with them my lifestyle, whereabouts, goals and struggles. I love hearing their "consejos" (tips) on how to manage around a variety of different situations. They always have the best advice. Wouldn't you say?
I grew up in a small 1-bedroom apartment where we made 7 people fit – 2 adults and 5 children so staying connected and always in close communication was the norm. As I grew older my parents always made sure that they knew what my siblings and I were up to and kept us aligned to our goals.
At 17 years old I moved out of my parent's home and never returned to live there, but I always visit them. I live six hours away by car, and there's not one day that I go without talking to them over the phone. I feel guilt and shame when I do not call them. It's an oddly interesting feeling and very much a cultural one.
When there are so many other avenues of communication and technologies why do I choose to talk to my parents daily the old-fashioned way via a phone call? The answer is simple. I think my parents deserve some quality time and undivided attention so that we can catch-up and let each other know how we're doing.
Yes, I see many of my friends send a short and, sometimes cold text message to their folks, email or even use social media to reach out to their parents once in a while or when they need their parents for something.  But, I can't relate to that way of communicating with my parents.
I understand we live very busy lives, but honestly we can't drop everything we're doing and make a simple and short phone call to the two individuals that brought us into this world?  Sorry, I don't mean to sound judgmental, I am just stating a fact.
Humbly, I know of people who don't communicate with their parents and have forgotten about them completely. Some of those people are not part of the millennial generation and often times are not Latino. Though I respect everyone's decision of how often they communicate with their parents, I wouldn't forgive myself if I went days without hearing from them. Plus even over the phone I would get scolded for not calling them. Yes, still at a distance and as an adult my parents try to discipline me. I wonder if it's a Latino thing. Lol
I strongly believe that out of respect and because I honor them both so much there is daily communication. Typically, my conversation with my mother is in Spanish and with my father I tend to speak English because I love hearing his thick accent and he enjoys practicing his second-language skills.
I enjoy my Spanish conversation with my mother because I get to polish up on my Spanish and have fluidity in all my phrases and words. Plus, there are some words that don't translate well into English and speaking Spanish makes me feel as I am right next to her. Listening to Spanish from my mom is warm and comforting. On the other hand, I enjoy talking English with my father because I get to teach him new words that are not part of his vocabulary and he gets to sharpen his second-language skills.
My parents taught me many lessons in life and without a doubt one of the most important ones was staying united and always looking out for the "familia" because at the end of the day they are all you have in this journey. I can't picture myself not knowing about them for a day and I am thankful I still have them around for some great talks and laughs.
I don't think we'll ever simply communicate via a Facebook or text message. I just wouldn't feel appropriate.
As a Latino millennial, I understand that there's a lot of different family dynamics and situations that exist in one's family that can result in a lack of communication, and even an estranged relationship, but for me since I have my parents alive and healthy I cannot grasp the idea of not talking to them daily.
How often do you talk or spend time with your parents?
Saludos mileniales,
Gustavo