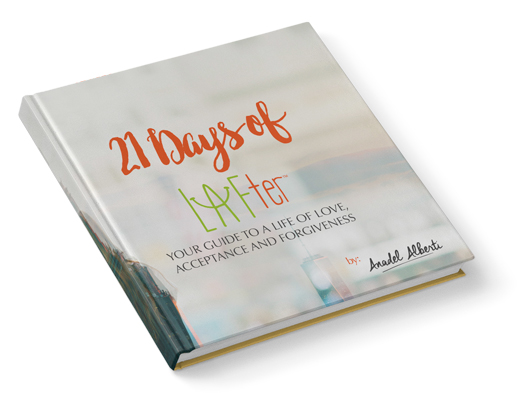 I first knew about Anadel, or Ana as she is called by many of her friends, via a private message on Facebook. Our mutual friend Carla wanted to let me know that Ana was coming to the #WeAllGrow Summit 2017 , and since it was her first, would I keep an eye on her. Well, truth be told, Ana didn't need any help. She was friendly, warm, and her smile lights up a room, no matter what time of the day it is. We immediately connected and for the next couple of days, became inseparable. We both took advantage of everything the summit had to offer, but we always found a way to connect and hang out. Her LAFStyle approach to life is infectious and her passion for her work is admirable. A certified adults and kids yoga instructor, she is the co-founder of MINDful Women's Group, and a motivational speaker, who loves photography and traveling around the world.
MB: Where were you born and raised?
AA: I was born and raised in Santo Domingo, Dominican Republic. And then, at the age of 17, I left to pursue my college studies in Purchase, NY.
MB: Did you speak English when you moved to the United States or did you learn it here?
AA: I was fortunate enough to take English classes while growing up in the Dominican Republic, and also attended the Georgetown Prep ESL Summer program both as a student and as a counselor for several years. That allowed me to learn English and come to the US to study my college years already knowing the language.
MB: Was it easy or difficult to find a balance between the culture you were raised with and the culture you were adopting?
AA: It has been a rollercoaster of emotions. On one hand I am a very adaptable person and love to experience new cultures embracing them with open arms, on the other hand, there were things that I really missed and still do from my home country; such as the joy and happiness of the people, the values learned, and the importance of spending quality family time. I feel there is a disconnect in that specific aspect in the American culture. Also the quality vs. the quantity of life varies from one country to the other.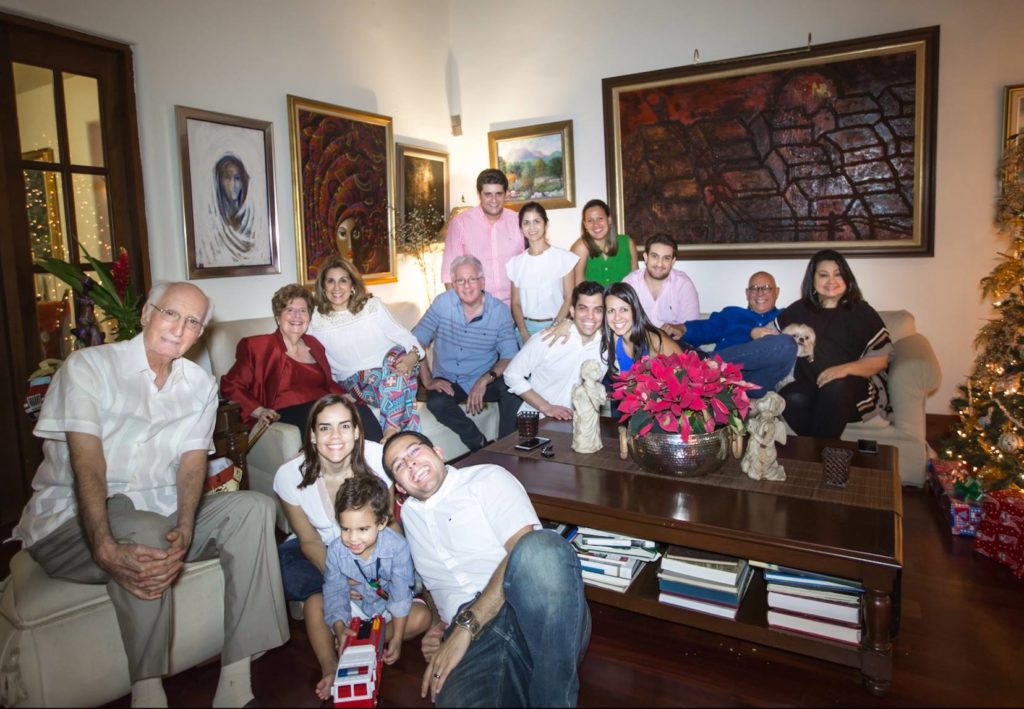 MB: You are a certified Stress Management, Health and Wellness Coach and known as a Wellness and Happiness Ambassador. What does that mean?
AA: Through my work with clients, they learn different ways of creating a lifestyle filled with health and happiness. I guide them through a process of release and manifesting to live their ideal life reducing stress, learning to better manage situations that may come up along the way, and provide strategies to better balance their personal and professional lives. We work together and I teach them tools that help them throughout the course of their life. We do one-on-one coaching sessions, follow-up emails, education videos, online programs, etc. Anyone who wants to elevate their level of wellness and happiness, reduce stress, anxiety and find joy in their day to day life is a candidate for one of my programs.
MB:Tell us about LAFStyle™ and your 21 days of LAFter.
AA: LAFstyle™ is a new style of life based on Love • Acceptance • Forgiveness. Basically how I make sure to live my life and the message I want to share with everyone in the world: Love unconditionally, accept without judgements and forgive yourself and others.
21 Days of LAFter was created to inspire, motivate and help people discover the ways of finding a happier and more fulfilled life through Love, Acceptance and Forgiveness. Download a free copy here http://bit.ly/MariTere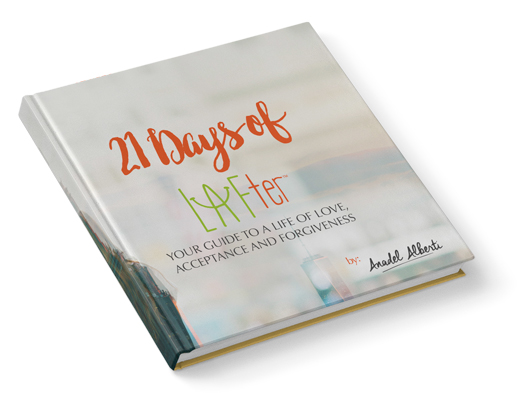 MB: Do you believe that we can be happy individuals all the time?
AA: I believe that we can CHOOSE happiness all the time. By living in gratitude, being PRESENT, and attentive to our surroundings, we have a better chance of experiencing happiness. We tend to get anxious about the future, dwell on the past and not pay attention to what's going on in the present. It is key to remember that whatever happens it doesn't happen to us, it happens FOR us. That way, every situation we go through in life, will be one of learning, and one for which we should be grateful.
MB: You founded #WellBiz a year ago. Tell us about that.
AA: The idea came to me after speaking at a conference at the Holistic Chamber of Commerce in Miami. After some meetings, with my business partner, Sheena Eizmendiz, we ended up co-founding the business. We've merged innovative principles of positive psychology and emotional intelligence with our signature SELP Framework (Stress Management, Emotional Intelligence, Leadership and Productivity) to offer a unique blend of corporate training, workshops and one on one coaching that fits the needs of a company.
In cultivating a work-life balance, employers are putting greater emphasis on preventative care and overall employee wellness. It's clear that investment in a wellness program delivers positive results. We implement engaging programs designed to make employees and companies healthier, happier and more productive.
MB: How do you come up with a program that works for a particular company? Are these programs #bilingual?
AA: We set up an initial meeting with the company representative to determine the areas where they need the guidance. We then come up with a program or training that fits their specific needs. These programs are bilingual.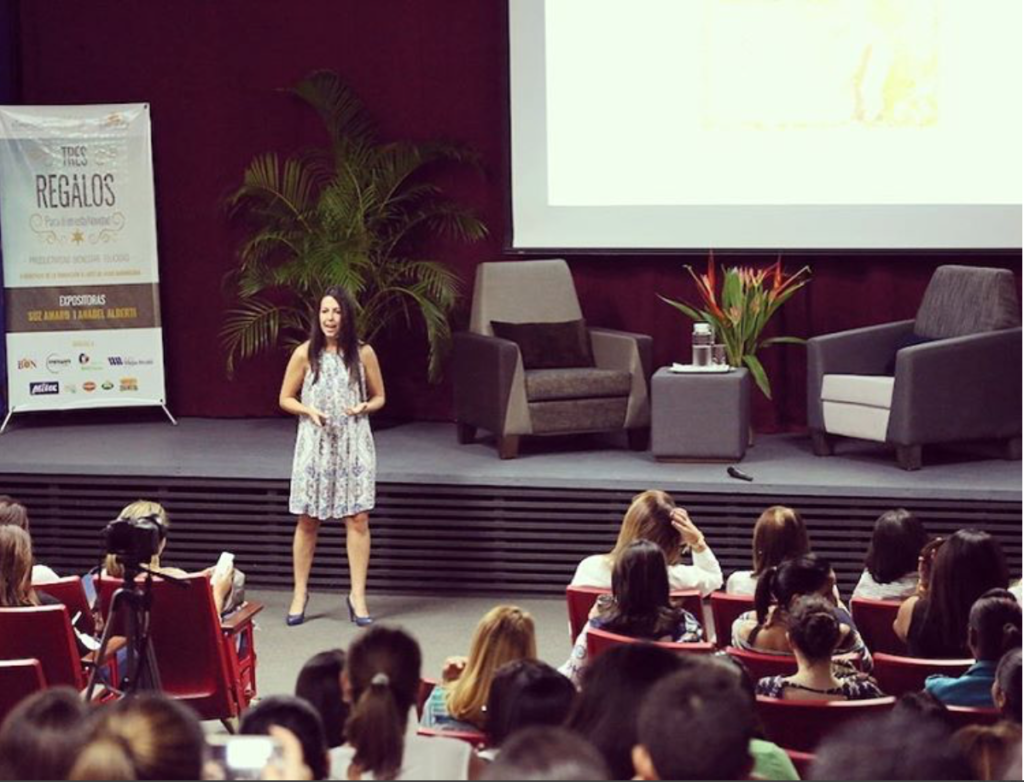 MB: Mindfulness and meditation are very popular these days. Are Latina women interested in learning how it works?
AA: Mindfulness and meditation are definitely topics that have gained popularity amongst people all around the world, including Latina women. It is a practice that gives clarity and allows you to be more PRESENT, focused, and be more efficient and productive.
Because of the great amount of benefits that it brings, I have prepared a "21 Days Understanding Meditation" audio program. It consists of short audio-files, which you can listen to on any electronic device. It is a compilation of information for people to better understand the practice of meditation, its connection to mindfulness, steps to initiate a meditation practice, reasons why meditation can positively change one's life, and short meditation and mindfulness exercises to practice during and after the program. bit.ly/understandingmeditation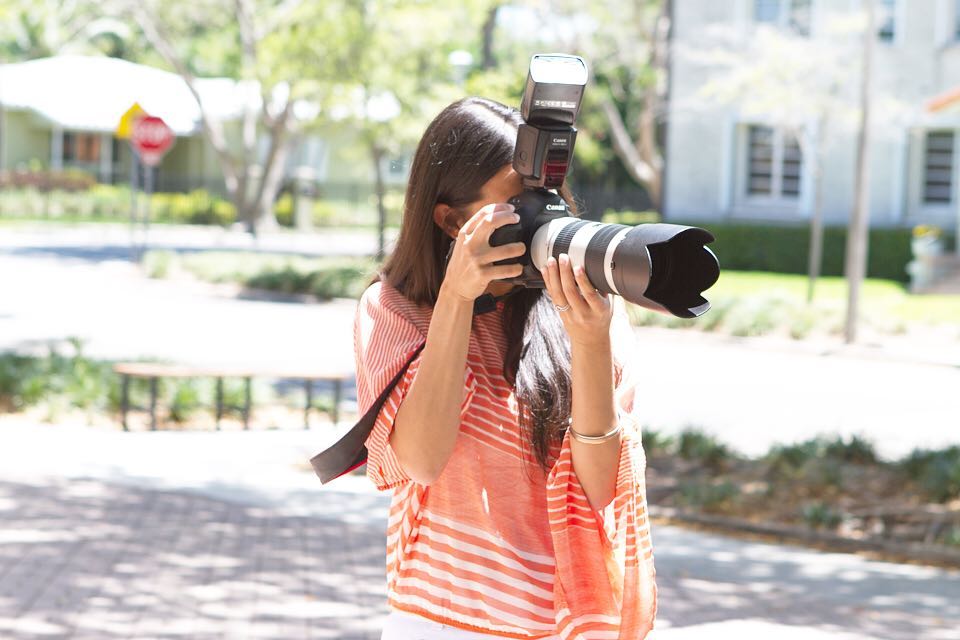 MB: You are passionate about photography. What is your favorite subject?
AA: It is another one of my businesses since 2006. I love photographing children, families, soon to be moms, portraits and events. I also love capturing landscapes and simply making memories through pictures.
MB: Favorite bicultural activity?
AA: More a multicultural activity – I would go with TRAVELING – learning about other cultures is one of my passions. Besides that, it would be reading both in English and Spanish.
MB: Favorite Latino author?
AA: It's hard to name just one – from Gabriel Garcia Márquez, Pablo Neruda, Isabel Allende, Paulo Coehlo, Julia Alvarez, Laura Esquivel, Junot Díaz, to Luz Maria Doria, Gaby Natale, You, of course, and other amazing Latino authors, I have had the pleasure to read and immerse myself in their stories, their words and their writing.
MB: What is your message for parents with children that have symptoms of stress in their lives, like being bullied at school because of their culture?
AA: It's important for parents to remember that children are a reflection of the mirror in which they see themselves, and while they are growing up, parents are that mirror.
Parents should focus on eliminating negative emotions and concentrate on developing the positive in every situation. They should teach their kids to recognize, apply and manage their emotions. In conclusion, help them grow to be emotionally intelligent. Always reminding them to live in gratitude, be compassionate, and in contact with nature, their mind, body and soul.
A mindful, empowering and fulfilling life devoid of stress? Isn't that what we all should want? Feeling so blessed to call Ana my friend!
Bai, Bai for now,
Maritere