One of the most rewarding experiences of becoming a published author has been to meet and get to know other Latina authors that share a passion for our culture. How so many of them are able to weave in their heritage as the main theme within their stories is fascinating and so important for our children of all ages. These days we see more Latino authors writing books for school-age children, many of them bilingual books, and there are many that have also entered the YA (young adult) genre. One of them is Evelyn Gonzalez, an expert in Educational Counseling and Guidance who has been a teacher for over 25 years. In her first novel, The 16 Rule, Evelyn eloquently describes the challenges teenagers can experience by being raised in a Latino family filled with rules that are not necessarily American!
Evelyn and I have became friends through our involvement in #LatinoLiteracyNow and we are both members of the International Society of Latino Authors, which allows us to participate in many of local and national book fairs. I invite you to meet, the very talented Latina mom, Evelyn Gonzalez.
MB: Where were you born and raised?
EG: I was born and raised in the San Gabriel Valley. Fortunately, I went to school with the same classmates from elementary (William McKinley Elementary) to junior high (Jefferson Intermediate) to high school (San Gabriel High). I have remained friends with many of them even now via Facebook.
MB: Were you raised bilingual and bicultural?
EG: I would love to say that I was raised to be bilingual, but my parents felt it was best to raise my brother, sisters and I in a monolingual home. However, my parents spoke Spanish to each other when they didn't want us to know what they were talking about. Spanish was their "secret" language. My siblings and I learned to tune it out especially since most of their arguments were in Spanish. One would think we would try to figure it out, but I guess we all decided that we would rather not know. LOL
We were very much raised bicultural. My parents instilled in us the values of our Mexican culture. We were taught to respect our grandparents, parents, our aunts and uncles, and our siblings. We never argued or spoke back to my parents. And we NEVER witnessed our parents being disrespectful to their parents. Both my parents were always so loving and gentle to their parents until the day they died.
MB: How was your upbringing different from your friends at the time?
EG: There has always been a strong sense of family, especially when we were young. We stayed together as a unit. We spent all our weekends, vacations, and celebrations together. Extended family is still crucially important. We grew up with our many cousins. We always looked forward to family parties and sleepovers. When we were young we weren't allowed to have school friends over the house, or allowed to socialize with them outside of school, so our relationships with our cousins was very important.
The strict upbringing we had was always questioned amongst my siblings and I. My parents never provided us answers. Now that I'm a mother I understand the fears they had. And while I do not agree with all the decisions they made for us, I do agree that family is of utmost importance.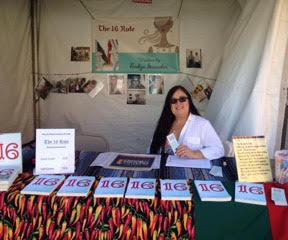 MB: Did your raised your children with two languages and two cultures?
Regretfully, my children are English-only speakers.
I tried my best to instill in them my Mexican culture. I have explained to them that in the Mexican culture family is very important. With that comes strictness of values and beliefs. I have explained to them that when they may see me as being stricter than most of their friends' parents, it is because I have many of the same fears my parents had about strangers and society in general. Trust is not easily given to non family members. Nor is trust given to family members who have proven to be disloyal and dishonest.
MB: You have been teaching for 25 years?  Where do you teach? What subject?
EG: Yes, I am currently a teacher in the Lake Elsinore Unified School District. I have been teaching at Wildomar Elementary School for 28 years. For approximately 25 years, I have taught third grade. I also have taught first, second, and fourth grades. I teach all subjects which I love because there is something special about each one of them.
MB: How did you decide to write a book? What is your message?
EG: The idea of writing my book had been whirling in my brain for over ten years. I tried writing it several times. Then one day I was inspired by my son who came home from middle school; he was in the sixth grade. He told me stories about his friends who were dating. I said, "But they're only twelve years old!" Then I remembered what it felt like to be that age and like a boy. So from that day until my story was finished, approximately six weeks later, The 16 Rule was born.
My novel, The 16 Rule, is somewhat autobiographical. I used some of my real life stories, and others I made up because I wanted Lucy, the main character to have different experiences. I wanted to show Lucy as someone who questioned why her life was so different than her friends. That part was true for me. I also wanted her to have a different ending to her story than mine. Some of my Latino friends expressed that their parents would have never given in the way Lucy's parents did on some things. My response is, "That's true. But I want my readers to have hope that parents will be willing to look at life through their child's eyes."
My message is that it's important to be open and try to understand parents' fears and strict ways, even though that is not what Lucy did in the beginning. Show them respect even if we feel they don't respect us. Parents want what is best for their children even if their children don't think that's true. Try to open up the lines of communication. And most importantly know that "time" is what will naturally bring change.
MB: In The Rule 16, Lucy Aceves is your main character. Tell us about her.
EG: Lucia Aceves, also known as Lucy is a 15 year old sophomore. She feels she is not longer a little girl. She wants to be able to have a normal teenage life like her friends. She wants to go to the mall and the movies without supervision. She attends summer school for one reason only. She hopes to meet a boy, because more than anything she wants a boyfriend. When Lucy's wish comes true, she struggles with the challenges of keeping her relationship a secret. She feels she is forced to lie, which burdens her more than she realized. The "16 Rule" is the age her parents agreed to as the acceptable dating age. Having to wait an entire year to date is like an eternity, and she doesn't want to loose the interest of the boy who has captured her heart.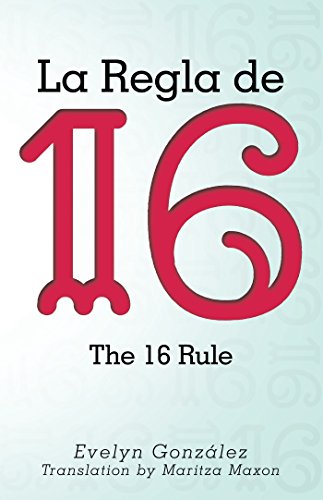 MB: How has your audience received the book?
EG: The audience for The 16 Rule is in the age range of 12 to 17, however many of my friends who are parents to teenage girls have enjoyed reading the book. Many have said that Lucy's story reminds them of their high school days, and the challenges they experienced at that age.
MB: Is the book in Spanish? As an e-book? Audiobook?
EG: Yes, it is translated in Spanish, and it is an e-book.
MB: Are you in social media? What is your favorite platform?
EG: Yes, I am on Facebook, Instagram, Twitter, and LinkedIn. My favorite platform is Facebook. I have two websites at www.the16rule.weebly.com and www.thesixteenrule.com.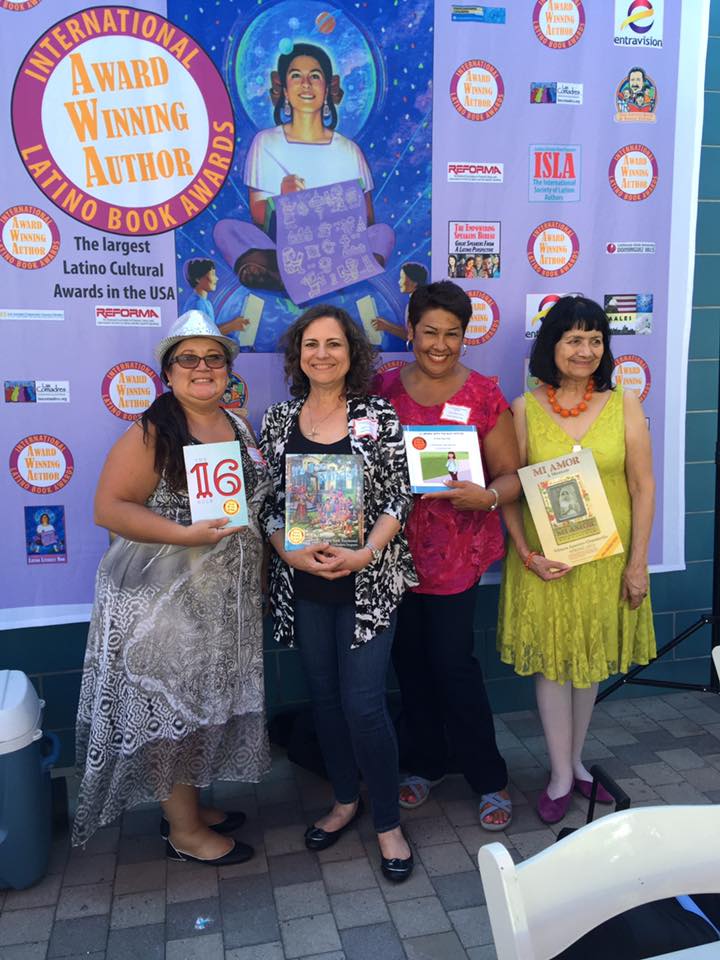 MB: Favorite #bilingual activity you do with your children?
EG: Our favorite activities are practicing rolling our "Rs". LOL
MB: Favorite #bicultural activity? 
EG: This is a tough question to answer because I have never thought about this before. But I would say dancing, especially Latino style.
MB: What are you reading these days?
EG: I have four books on my nightstand. I am reading Raul H. Yzaguirre: Seated at the Table of Power. He is the founder and former CEO of National Council of La Raza. This is a biography written by Stella Pope Duarte.
The other books are: Al Franken: Giant of the Senate written by Al Franken, The Courage to Be Yourself: A Woman's Guide to Emotional Strength and Self Esteem written by Sue Patton Thoele, and a fictional novel by Lorea Canales, Becoming Marta.
MB: What is your message for parents raising children in today's world? Especially to parents raising children with two or more cultures?
EG: In the over 25 years that I have been an educator I've seen quite a difference in the upbringing of children. Children today are, in my opinion, way too dependent on technology. I recommend that parents spend more quality time with their children. Take them places like the mountains, desert, and the beach. Go to movies together and play games. Parents today need to set family time aside without social media and technology.
Parents raising children with two or more cultures have the opportunity to teach their children about their culture(s). They can tell them old stories and legends about family members and famous people. Everyone loves a good scary story. I would share those.
MB: What is your message for Latina women that want to write a book?
EG: My message is simple, "Tell YOUR story." And if they don't have a story, tell someone else's story. We need to share our stories so that Latino readers are able to see themselves in literature. We, as a culture are very much misrepresented in books. We, have interesting, meaningful, courageous stories to tell.
One Latina book author mom to follow!
Bai Bai for now,
Maritere
Instagram: latinaboomermom
Something is wrong. Response takes too long or there is JS error. Press Ctrl+Shift+J or Cmd+Shift+J on a Mac.

Like Us On Facebook