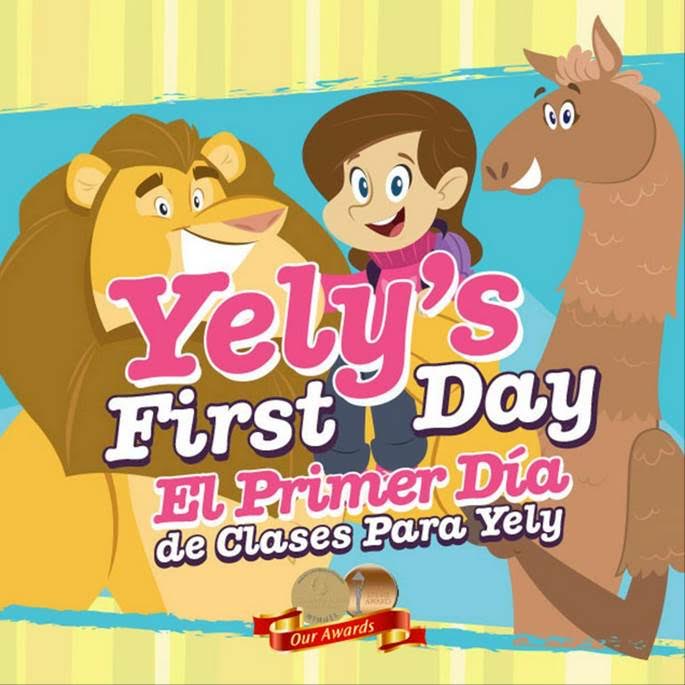 Summer is fast approaching and keeping your kids reading while on vacation is a must do! Here's the first in my series of book reviews from ReadConmigo for your family's library, Yely's First Day, by Yelyna De León.
Yely's First Day, for ages pre-K to fifth grade, is an autobiographical story based on the author's real life experience when moving from México to the United States as a child. This is her first published work.
As we all know, moving to the U.S. from a foreign country can be difficult, especially if you're a child that speaks little or no English. ¿Muy difícil,no? That is the experience that Yely lives in Read Conmigo's book, Yely's First Day.
During her first week in her new home, Yely tries to fit in and make new friends. But not speaking English didn't help. This all changed when she meets a new friend named Yolanda who is from South America and also speaks Spanish.  Yolanda introduces Yely to her other friends, like Leonard the Lion, and together, they tutored Yely on her English during the summer before starting school in the fall. ¡Inglés todo el verano!
When the first day of class arrived, Yely got a big surprise that made her feel very welcomed. All the students greeted Yely with a big "¡Bienvenida Yely!" Some even approached her about teaching them Spanish and learning more about her culture and life in Mexico. What a difference this day made to her first week in her new country!
"Yely's First Day can help kids who are experiencing the same situation by empowering them to embrace their culture and bilingualism as a wonderful thing," said De León.
Many of us have lived Yely's experience. If it is hard for adults to adjust, it can be especially difficult for our children. Reading books like Yely's First Day as a family can offer ideas and suggestions on how to help our kids with the transition as they adapt to a new city or even a new country.
¡Entonces, ha leer se ha dicho. Con ReadConmigo books!
Bai, Bai for now,
Maritere
To access Yely's First Day go to https://www.readconmigo.org/
For last year's book reviews, go to Children's Library on my site!