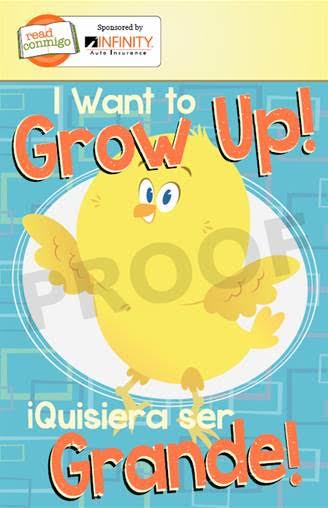 So far, this has been a summer filled with new and exciting animated characters in movies for our kids to learn about family, language and culture; Pixar's 'Finding Dory,' Disney's first Latina princess, 'Elena,' and even 'Gloria' and friends in the world of Mundo Lanugo. But let's not forget reading! Books can open up our imagination, and kids should have a daily set time for reading. Luckily, the national award-winning bilingual literacy program, Read Conmigo, has many books to choose from. This time, I would like to tell you about their latest book, I Want to Grow Up!/¡Quiero Ser Grande!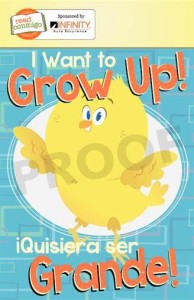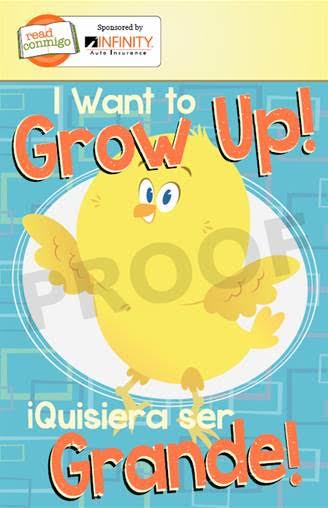 Written by the Read Conmigo team for children ages pre-K to 5th grade, I Want to Grow Up! is the story of David, the younger brother of talented Gabriel, the rooster, known for his great guitar playing and super karate kicks. David wishes he can grow up to do the things his older brother can do, and he wants to do them now! ¡Ya! But, what he doesn't realize is that it has taken Gabriel years of practice and commitment for him to enjoy all the great things he can do at his age. Until, Gabriel shares his wisdom with his younger brother. ¡No hay que crecer tan pronto!
It's interesting that as children, we want to grow up as quickly as possible to do the great things that adults can do. But in our innocence, we are not aware of the struggles and responsibilities that come with adulthood. This is why it's important to remind children that being a child is great and a special time that they should enjoy to the fullest. Reading I Want To Grow Up! with your children can help to start the conversation about growing up too fast.
Childhood should be full of happy, memorable, and fun events. ¡Actividades divertidas! Whether its playing little league baseball, making lots of friends at school, or playing with friends outside during hot summer nights, kids should enjoy being kids and not worry about growing up too fast.
As parents, it's important to reassure our kids that their youth is a time they should treasure. With most kids out of school on vacation, I invite you to create special memories with your children by making activities fun, yet educational, when possible. From doing a Summer Reading Scavenger Hunt, to reading books with your children holding flashlights in a tent pitched in your backyard, to singing in the car when driving to the grandparents' house, or even riding bikes for ice cream in your neighborhood, those are the special moments that children will remember.
Now, go enjoy I Want to Grow Up! with your kids!
¡A leer se ha dicho!
Bai, Bai
Maritere